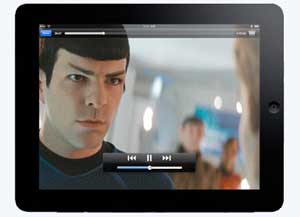 Putting your Movies on your iPad
Many people believe that the Apple iPad can only play video formats that are associated with Apple. That means downloading Divx (.avi) files and other such similar formats will not play on your Apple iPad. However, with this brief article I will show you how simple it is to add your film download collection, regardless of format to your iPad. Within a few minutes you will be watching your latest film that you downloaded via a torrent client.
The first thing you need to do is download the film of course, and have a PC that has iTunes installed onto it so that you can easily transfer files from the PC across to your iPad. The second thing you need is a program on your iPad that will play .avi files. The program I recommend is "Flex Player" which is a free app available from the App store.
"Flex Player"
Flex Player is a great free piece of software that allows you to play .avi, DivX, Xvid, VOB, MP4, MOV and many more formats. It has a simple to use interface which shows a list of all the videos you have installed onto your iPad and you simply click on the video to watch the film.
In-Movie controls are pretty straight forward, with Play/Pause, Forward and Reverse. You can also drag the title marker to any specific point of time in the film. The whole package is only just over 8MB in size and from quite a lot of use it seems to be pretty stable.
Installing a film on your pad – The steps to follow
First of all, make sure you have iTunes installed on your PC and that your iPad is tied to that PC.
Connect your iPad to iTunes.
Click on the "Applications" section and scroll down to the bottom of the screen.
Find "FlexPlayer" and click the "Add" button.
Browse your PC Folders to where your movies are stored and simply add them.
Sync your iTunes with your iPad, unplug and click on the "FlexPlayer" application.
Enjoy the film
That's all there is to it, it's quick and simple and does not require you to try and convert your collection into an iPad specific format. To delete the movies simply load up Flex Player and click on edit, and then just click the little cross on the side of the films avatar to delete.
Load up your iPad and start enjoying movies!